Dec. 01, 2021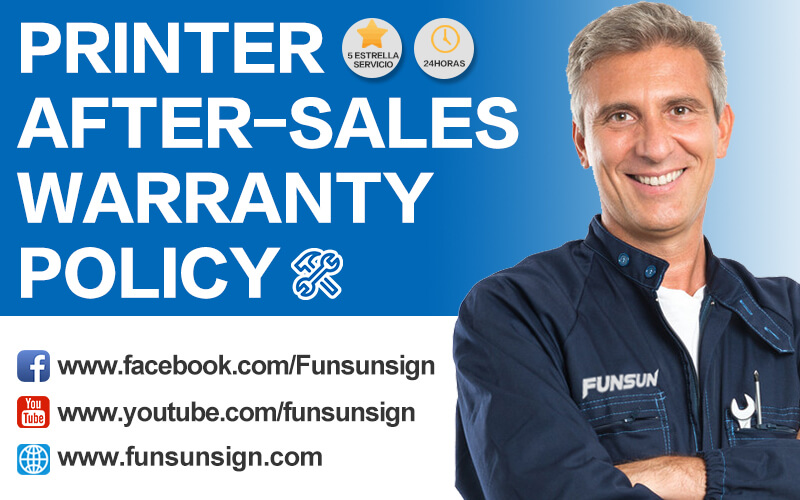 1: All parts of the printer are guaranteed for one year
(except for the print head, no company has a warranty on the print head)
2: For accessories that require warranty, in principle,
you must return the old accessories to us first (customer shipping charges)
We send the repaired parts or new parts to the customer (our shipping fee)
3: If the accessories are damaged due to improper operation by the customer, it will not be included in the warranty.
(Voltage problem, wrong data cable connection, ink accidentally dripping on the accessories causing short circuit, etc.)
4: Customers are advised to buy some fragile parts when buying the machine, and it is best to buy a set of motherboard headboards as a spare.
So as not to affect the printing production after the machine has a problem
5: After receiving the machine, please read our machine instructions or video carefully before installing the machine.
If you can't find it, you can contact the salesperson again.
6: If there are any technical problems, our technicians will provide online technical support.
Generally through Whatsapp or Wechat.
7: If you need remote assistance & complicated technical problem,
you can make an appointment with the technician in advance, and we will help you solve the problem.
8. We have known printer technicians in many countries around the world.If necessary,
we can also recommend local technicians to you.
9. Our machines will undergo strict tests and inspections before they are packaged and shipped out of the factory.
If you follow our instructions or video requirements to install, use, and operate the printer, there will be no
problem.
10.The most important thing is the maintenance of the printer nozzle.
It is recommended that every 2-3 days, turn on the printer and do not let the ink dry in the nozzle and block the
nozzle.This is also one of the main reasons why the print head does not have a warranty